1. Different manufacturers
HDMI is dominated by TV manufacturers, while DP is developed by a consortium of PC and chip manufacturers.It is important to note that HDMI requires a licensing fee, whereas DP does not.
2. Version evolution
HDMI interface can transmit audio and video signals at the same time, different versions of the differences are as follows:
HDMI1.4 has a maximum bandwidth of 10.2GDPS, theoretically supporting 1080P 144Hz, 2K 75Hz, 3840 x 2160/30Hz, 4096 x 2160/24Hz.
HDMI2.0 has a maximum bandwidth of 18Gbps and supports 1080P 240Hz, 2K 144Hz, 4K 60Hz and 5K 30Hz.
HDMI2.1 has a maximum bandwidth of 48Gbps and supports 2K 240Hz, 4K 144Hz, 5K 60Hz and 8K 30Hz.
DP interface
The first generation of DP interface bandwidth reached 10.8Gbps;DP1.2 bandwidth up to 21.6Gbit/s, DP1.4 bandwidth also reached 32.4Gbps, but joined the DSC display compressed stream technology, which supports 240Hz under 4K, 60Hz under 8K.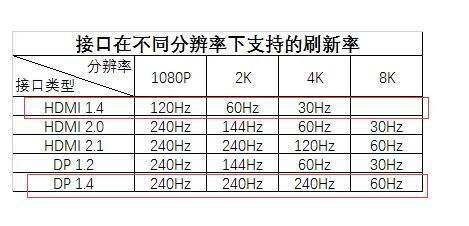 HDMI and DP interfaces at different resolutions to support the refresh rate 3, widespread range
HDMI interface: At present, the market of smart TV and its auxiliary equipment (set-top box, game console, notebook, digital camera, etc.) are almost equipped with HDMI interface, application is very wide.In addition, the current mainstream PS4 and Xbox game consoles are the use of HDMI interface.
DP connection: mainly in the PC field popular.In addition, AMD's Eyefinity multi-screen splicing technology requires the DP interface.